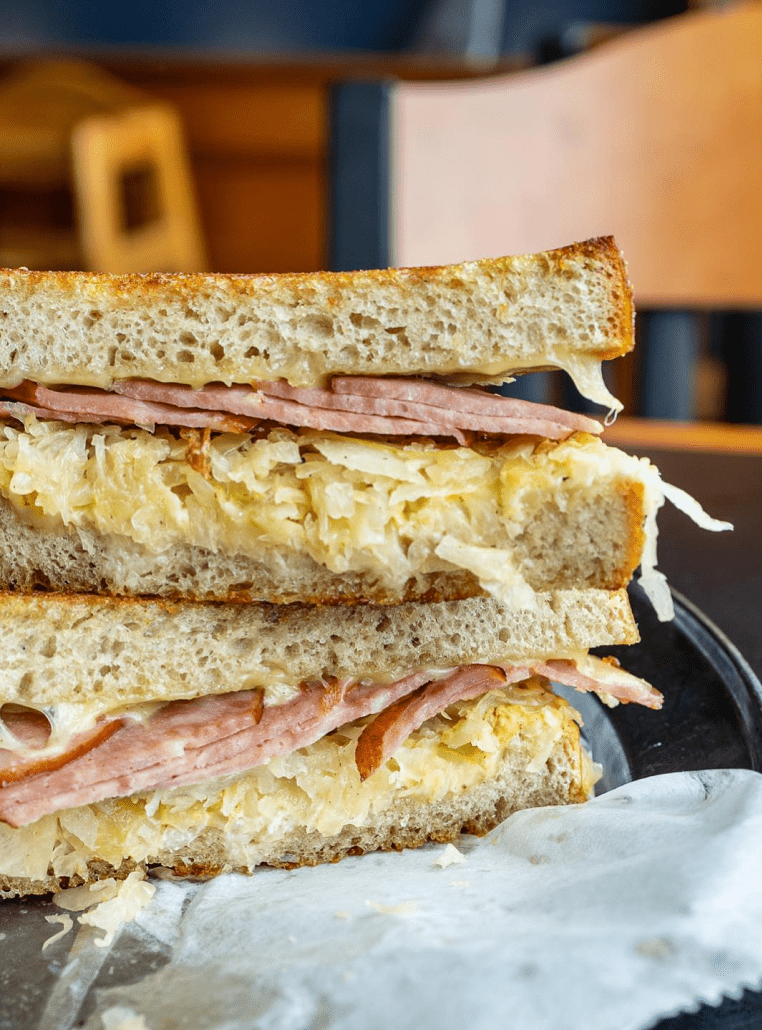 SLOPPY JOES

Sloppy Joes contain two meats and Swiss cheese, three slices of rye bread, dry cole slaw and Russian dressing. Choose from one of the popular Sloppy Joes below or create your own! Disclaimer: Each whole sandwich feeds 2-3 people!

The Favorite Joe

Roast Beef, Turkey and Swiss

Half $15.99 Whole $28.99

The Original Joe

Roast Beef, Tongue and Swiss

Half $15.99 Whole $28.99

The Gourmet Joe

Town Hall Turkey, Roast Beef and Swiss

Half $15.99 Whole $28.99

The Smokin' Joe

Egg Salad, Cream Cheese, Nova and Swiss

Half $15.99 Whole $28.99

The Newstead Joe

Turkey, Corned Beef and Roast Beef

Half $15.99 Whole $28.99

The Montrose Joe

Ham, Turkey and Swiss

Half $15.99 Whole $28.99

½ A Joe Sandwich with a Cup of Soup $16.99

The Maplewood Joe

Corned Beef, Turkey and Swiss

Half $15.99 Whole $28.99

The California Joe

Tuna Salad, Egg Salad and Swiss

Half $15.99 Whole $28.99

The Brooklyn Joe

Roast Beef, Corned Beef and Swiss

Half $15.99 Whole $28.99

The Jersey Joe

Roast Beef, Ham and Swiss

Half $15.99 Whole $28.99

The "Reduced Fat" Joe

Town Hall turkey and Alpine lace Swiss on two layers of bread

Half $12.99 Whole $22.99

Custom Joe Half $15.99 Whole $28.99

You choose two meats and a cheese

BUILD A SANDWICH

All sandwiches include a choice of toppings: lettuce, tomato, mayo, mustard, Town Hall Russian, cole slaw, pickle, chips. Choose a cheese for an additional $0.60, and made any sandwich a sub for just $1.00 more.

Town Hall Roasted Turkey - Store-Cooked $12.99

Town Hall Roast Beef - Store-Cooked $12.99

Corned Beef - Store-Cooked $12.99

Ham & Swiss $10.99

Pastrami $12.99

Tongue $12.99

Ham $10.99

Virginia Ham $11.99

Kosher Salami $10.99

Hard Salami $10.99

Genoa Salami $10.99

Prosciutto $14.99

Liverwurst $9.99

Turkey & Ham $12.99

$9.99

Chopped Chicken Liver - Store-Made $12.99

Fish Filet (Fridays only) $12.99

Egg Salad $10.99

Brisket $12.99

Tuna Salad $10.99

Tuna & Egg $12.99

Chicken Salad $10.99

Shrimp Salad $14.99

Cheese Sandwich $9.99

Nova & Cream Cheese $14.99

Muffuletta $12.99

Ham, Genoa salami, provolone and Muffuletta olive spread on fresh focaccia

Town Hall Club $12.99

Three layers of toast (white, rye or wheat) with Town Hall turkey, bacon, lettuce and tomato

Town Hall Reuben $13.99

Corned beef, sauerkraut and Swiss cheese with Russian dressing on rye bread

Town Hall Hero $12.99

Ham, salami, prosciutto, pepperoni, provolone, lettuce, tomato, oil, vinegar, sweet peppers and Town Hall mayo

Town Hall Gobbler $13.99

Roasted Town Hall turkey, cranberry sauce, stuffing and gravy on rye bread

The Godfather $13.99

Grilled chicken, mozzarella, roasted red peppers and balsamic vinegar

Town Hall Steak Sandwich $14.99

Grilled strip steak (cooked to your liking) on a steak roll with lettuce and tomato

The American $11.99

Virginia ham, Swiss or American cheese, grilled with lettuce and tomato

The Venetian $11.99

Proscuitto and mozzarella, grilled with lettuce and tomato

Tuna, Chicken or Egg Salad $10.99

Includes a scoop of the salad of your choice and served on a bed of lettuce, garnished with tomatoes and served with your choice of Town Hall cole slaw, potato salad or macaroni salad.

Chef Salad $10.99

Ham, turkey and swiss served on a bed of lettuce with your choice of dressing.

Sloppy Joe Salad $10.99

Ham, turkey and swiss served on a bed of lettuce with cole slaw and Russian dressing.

Greek Salad $10.99

Feta cheese, Kalamata olives, cucumber, tomato and red onion on a bed of lettuce with oil and vinegar dressing.

Caesar Salad $10.99

Grilled chicken, shredded parmesan cheese and croutons over a bed of Romaine lettuce with Caesar dressing.

Cobb Salad $10.99

Bleu cheese, grilled chicken, boiled eggs, avocado, bacon bits, cucumber, tomato and chickpeas over a bed of lettuce with oil and vinegar dressing.

Create your own platter for $10.99!

Your choice of wrap (plain, whole wheat, tomato basil or spinach)

Tuna, Chicken or Egg Salad $12.99

Sloppy Joe Wrap $12.99

Any two meats, cole slaw, Russian dressing and Swiss cheese

Offered Daily: Chicken Noodle & Matzo Ball Soup Monday: Italian Wedding Tuesday: Split Pea Wednesday: Beef Barley

Thursday:

Friday: Clam Chowder Saturday: Cream of Turkey Sunday: Pasta Fagioli

Potato $6.99 German Potato (with or without bacon) $6.99 Red Bliss Potato $6.99 Cole Slaw $6.99 Macaroni $6.99 Tri-Colored Pasta $6.99 Ham $6.99 Cucumber $6.99 Mediterranean $6.99 Egg $9.99 Tuna $10.99 Shrimp $19.99 Chicken $10.99 Chopped Chicken Liver $10.99 Israeli $8.99 Health $7.99

¼ lb Cole Slaw, Potato Salad or Macaroni Salad $1.99 Whole Pickle (new, full sour or dill) $1.75 ea. Homemade Fries $3.99 Potato Knish (potato, spinach and meat) $4.99 Potato Pancake $4.99 ea.

½ Roasted Chicken $5.99 Chili (no beans) $4.99 Macaroni & Cheese $5.99 Pot Pie (chicken, beef or turkey) $6.99 Sliced Nova (per lb.) $38.99 Cheddar Spread (per ½ lb.) $6.99 Hot Dog $2.99 Chili Dog $3.99 White Fish (per lb.) $16.99 Herring (per lb.) $10.99 Cheeseburger $6.99 Hamburger $5.99

Chicken Fingers $4.99 Peanut Butter & Jelly $3.99 Mac n' Cheese $4.99 Grilled Cheese $5.99 Bologna $6.99

All include three eggs, three meats and two slides of cheese.

Egg Sandwich $5.99 Egg & Cheese Sandwich $6.99 Egg with Taylor Ham or Bacon $7.49 Egg & Cheese with Taylor Ham or Bacon $7.99

Homemade Rice Pudding Small $3.99 Large $4.99 Town Hall's Own "New-Hy's" Cheesecake Slide $3.99 Whole $26.99 Homemade Baked Brownies Plain $3.99 Homemade Baked Brownies with Walnuts $4.29 Pound Cake (plain, lemon, marble, banana nut, cranberry nut) $3.49 Town Hall's Own Crumb Cake $3.99 Traditional Black and White Cookies $3.49 Bread Pudding $3.49 Sliced Apples & Cinnamon $1.99 Fruit Salad $3.99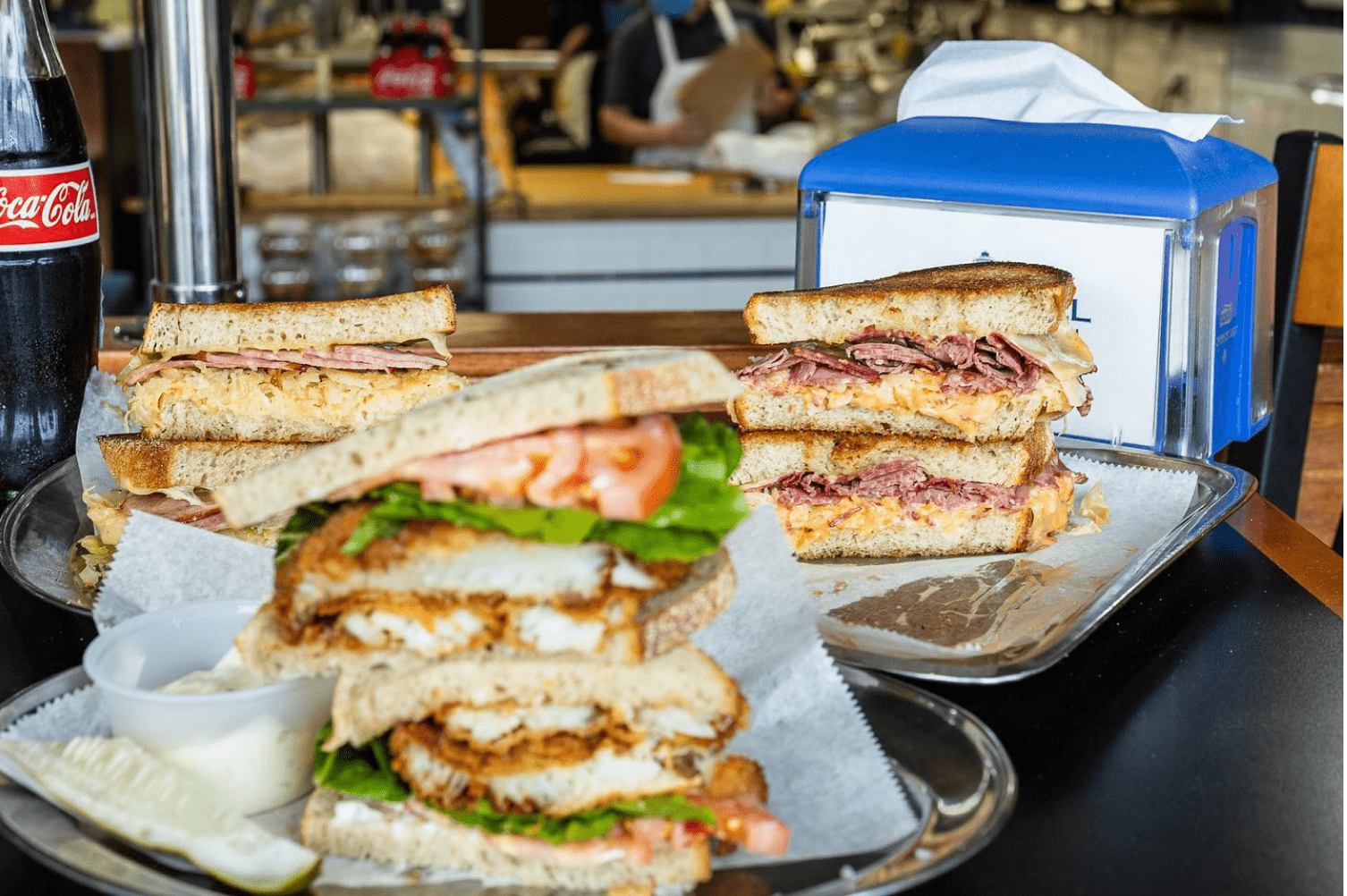 Order Takeout or Ship Anywhere
Can't make it to the Deli or did you move away and miss this taste of home? We have more ways than ever to enjoy Town Hall Deli!
If you're local, select Order Online to order takeout for pickup & delivery.
If you're farther away, we also cold-pack and ship via Goldbelly.
Open Monday - Saturday

Closed Sundays

Catering available
74 First Street
South Orange, NJ 07079
---